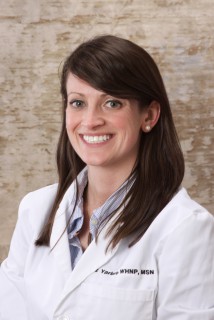 Mary Elizabeth "Liz" Lane, WHNP, MSN
We are very pleased that Mary Elizabeth "Liz"  Lane, Women's Health Nurse Practitioner, has joined Virginia Beach Obstetrics & Gynecology.  She attended Samford University where she earned her Bachelor of Science in Nutrition in May, 2012.   Liz earned her Master of Science in Nursing from Vanderbilt University in August, 2014.  She received her NCC Women's Health board certification in 2014.  She also is certified in Comprehensive Colposcopy by the American Society of Colposcopy and Cervical Pathology (ASCCP).
Liz brings with her experience from working as a Women's Health Nurse Practitioner with the Greenville Health System, University Medical Group, Department of OB/GYN in an academic role, teaching medical students and OB/GYN resident physicians in the colposcopy clinic.  She moved to southeastern Virginia in the Summer of 2016 to accompany her husband, Andrew Lane, MD, who is an ob/gyn physician doing his fellowship at Maternal Fetal Medicine at EVMS.
Liz offers routine annual examinations and preventive care, as well as evaluation and treatment of gynecologic problems, including treatment for abnormal Pap testing.  In addition, she will be part of our obstetrical team providing care to our pregnant patients.
In her free time, Liz enjoys spending time with her family; she has a sister who lives in Charlottesville and they enjoy visiting each other/living close together.  She and her husband enjoy all outdoor activities, especially hiking, biking, and going to the beach. They also enjoy time in the kitchen cooking up new recipes.
Please join us in welcoming Liz to Virginia Beach OB/GYN!