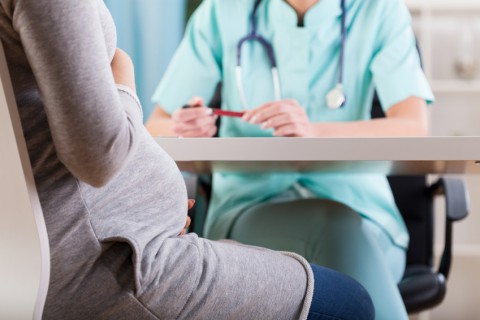 I am admittedly a terrible patient. Often those who work in the medical field are chastised for taking poor care of themselves despite spending hours daily caring for others.
Now I'm in a new position, with a new patient perspective — when office visits and acting as a "good patient" are no longer about me. I am pregnant for the first time, and now it's about ensuring both me and this little lady are healthy and well.
But, I have a confession: I'm still not the best patient – but I'm trying!  I take my prenatal vitamins most days of the week, I drink as much water as I can, and I completed my sweet sugary screening for diabetes in pregnancy.   I'm experiencing so many of the same discomforts as hundreds of patients have described to me — I dry heave many mornings, I suffer with heartburn, my back hurts, I can't sleep even with many supportive pillows, and I've probably used the office bathrooms more in the last six months than in the previous six years with the practice.
Although I only recently made my pregnancy public knowledge to my patients, it seems the same question comes up often during visits — whether or not this will make me a "better" doctor. With a few months still ahead, my response right now is "no". But I will certainly let you know if my answer changes! In the same vein that your cardiologist doesn't need to have a heart attack to understand your symptoms, and your oncologist thankfully doesn't have to experience cancer herself to treat you, I don't believe your OBGYN has to have a pregnancy or painful menstruation to be a caring and compassionate provider.  Some of my best mentors and leaders in the field of womens health are men.
Having said that, I feel grateful and humbled to have the privilege of feeling fetal movement myself for the first time this year.   And I'm excited to share this journey with so many of you as you all have kindly shared your journeys with me!
More to come…   Ilene
Ilene B. Goldstein, M.D., is a board-certified obstetrician-gynecologist, practicing at Virginia Beach Obstetrics & Gynecology. She and her husband, Len Futerman, DDS, are expecting their first daughter in November, 2015.   Dr. Goldstein practices in Norfolk and Virginia Beach, VA.