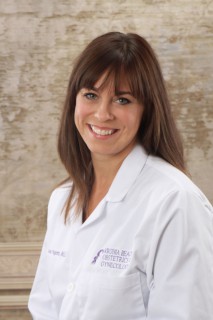 Andrea Nugent, MD, FACOG
We are excited to have Andrea Scharfe Nugent, M.D. as the newest addition to Virginia Beach Obstetrics and Gynecology, in September, 2014. She is pleased to offer comprehensive obstetric and gynecologic care to women of all ages. She has keen interests in high risk obstetrics, infertility, pediatric and adult gynecology, and operative laparoscopy and hysteroscopy.
Dr. Nugent began her medical training at the Royal College of Surgeons in Ireland in 1994, and then completed her residency at The Johns Hopkins Hospital in Baltimore, Maryland. She worked as an attending physician and clinical instructor at Johns Hopkins, before returning to Ireland to practice at Coombe Women and Infants University Hospital and Mount Carmel Hospital in Dublin as a consultant obstetrician gynecologist. Dr. Nugent is board certified by the American Board of Obstetrics & Gynecology.
In her free time, Dr. Nugent and her husband Aran are very busy with their four school-aged children–helping with homework or attending sporting events.  When not busy with their children's activities they can be found enjoying the beach.