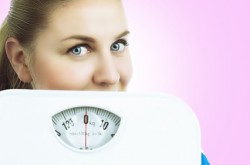 Yes, most of us know we should lose weight.  Our doctors tell us.  Women's magazines tell us.  Our mirrors tell us.  We know losing weight will reduce our risk of medical conditions such as heart disease and diabetes.  We will have more energy.  We will fit more comfortably in our clothing.  The problem is getting motivated.
As a urogynecologist, I counsel my patients that there is a known established association between weight gain and urinary incontinence (UI), which is unintentional leakage of urine.  Various studies show significant weight loss improves a leaky bladder.
But now a European study looked at the association between Body Mass Index (BMI) and women's waist circumference with vaginal orgasms.  They found that women with higher than normal BMI and large waistlines had less vaginal orgasms!… Bet now you're motivated!
Dr. Mary Burns is a board-certified obstetrician gynecologist with subspecialty board certification in Female Pelvic Medicine and Reconstructive Surgery.  Dr. Burns completed fellowship training in Urogynecology/Female Pelvic Medicine and Reconstructive Surgery at Wayne State University. This is specialized training in treating disorders of the genitourinary  system such as urinary incontinence, Interstitial Cystitis, and prolapse (bulging) of the vagina, bladder and/or the uterus.  Dr. Burns practices full time at Virginia Beach Obstetrics & Gynecology, with offices in Virginia Beach and Norfolk, VA.