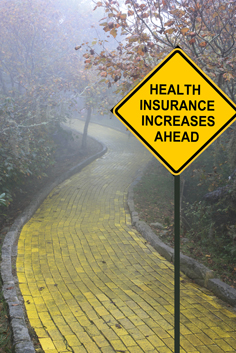 By Marcia Hughes
I'm here to help you understand how insurance works. In this age of rising premiums and deductibles, it is more important than ever to understand your benefits and what financial responsibilities you will have prior to having medical services.
HMO's (The Good Witch) spoiled many of us years ago with small copays, no deductibles to meet or co-insurance to pay.  We all want to return to Kansas and the old days, but clicking our red ruby slippers together and wishing everything could return to the old days just isn't going to make it happen.
LET ME HELP YOU UNDERSTAND INSURANCES COMPANY BENEFITS (Follow the yellow brick road)
Let's start our new journey to the new OZ with the BIG one, your insurance plan deductible (the bad witch).  Let's say your deductible is $5,000.00, because this amount seems to be the average deductible amount these days.  That means for most services, you'll pay 100 percent of all of it, until $5,000.00 worth of claims are submitted and processed by your insurance company. After that, you share the cost with your insurance plan by paying your medical provider or facility coinsurance and copays for covered services of the allowable rates set up by your insurance company. All policies vary, unfortunately it is NOT one size fits all, so your insurance may have different benefits than quoted above.
IF A SERVICE IS COVERED (Happy Munchkins), WHY DID I GET A BILL? (Sad Munchkins)
It is increasingly common for patients to receive bills for "covered benefits." This is referred to as "patient cost-sharing" and represents your responsibility for the cost of your health care. Common types of cost-sharing include.
Deductible-flat amount you pay before most services are covered
Co-insurance-your insurance pays a percentage of the allowed amounts and you pay your percentage of the allowed amount.
Copayment-flat fee that you pay for certain services.
WHAT DOES IT MEAN FOR A SERVICE TO BE A "COVERED BENEFIT"? (Tin man with the big heart)
A "covered benefit" means that your insurance company believes the service is medically appropriate care for you and you or your employer has agreed to include that service on your benefit plan.  If you are paying for an individual plan (not through your employer) you have chosen a plan that has some benefit limitations also.  Always read the fine print and ask a lot of questions before you purchase your plan type.
WHY WOULD MY PROVIDER RECOMMEND OR PERFORM A MEDICAL SERVICE THAT IS NOT A "COVERED BENEFIT"? (The Brave Lion)  Your provider strives to provide you with the highest quality of care available. Your provider does not know the specific details of your insurance policy, what your employer or you have chosen to be covered, and what deductibles or cost-sharing responsibilities you may have under your benefit plan. Medical advice does not change based on coverage you have elected.
ESTIMATES GIVEN BY YOUR PROVIDER (The Smart Scarecrow)
The estimates given to you in the office are not a guarantee of payment, only a quote of benefits given to your provider by your insurance. The estimates are only that, an ESTIMATE.
Once you actually see your provider he/she may perform additional services that are not included in your estimate.  Final determination will be made by your insurance company once the claim is received and processed under the terms, limitations and requirements of your insurance policy.
IF I RECEIVE A BILL AND I'M NOT SURE IF IT WAS A MISTAKE. WHAT SHOULD I DO?  (OZ The Great and Powerful)
Call your insurance company; you should call the customer service number listed on your insurance card. They may have processed your claim wrong.  If you believe the provider billed you incorrectly (whether it is the lab, hospital, or your doctor), call the phone number on you BILL for assistance. Please keep in mind that your providers or facilities cannot fraudulently adjust bills that are your responsibility under your benefit plan.
I hope our journey to the new OZ has been informative and will help you follow the yellow brick road to your emerald city of health and financial understanding.